The change of season arrives and with it an infinity of seasonal products that we were looking forward to tasting again. Autumn dishes, stews and stew foods are also returning, so delicious but at the same time super heavy.
You will agree with us that these meals help everything except to maintain our ideal weight. That is why today we are going to share with you light recipes for autumn that you will not be able to resist.
Does it smell like something yummy? Well, read on to discover the magic formulas for your most autumnal kitchen.
Autumn products: the best option for healthy eating
Chestnuts, mushrooms, pumpkin, sweet potato, aubergine, figs, persimmon, pomegranate… It makes our mouths water, right? Well, all these products are seasonal and will become the protagonists of our healthy autumn recipes.
Incorporating these ingredients into your diet will be very easy for you and will provide a large number of nutritional benefits. What better incentive than this to start eating healthy?
5 healthy and delicious autumn dishes
If you want to cook with seasonal products but you don't want to complicate yourself in the kitchen, we bring you the solution. Here we are going to show you five simple autumn recipes that will surprise all palates.
1.- Warm mushroom and mozzarella salad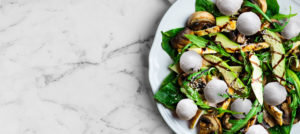 This is a simple recipe, in 15 minutes it will be ready, but with which you will undoubtedly succeed.
Ingredients:
200 gr. mozzarella cheese
200 gr. mushroom
1 package of mixed lettuces
1 avocado
A handful of pine nuts
EVOO
Balsamic vinegar
Salt
Pepper
Elaboration:
Place the mushrooms (previously washed) on a baking tray and on each mushroom, a thin slice of cheese.
Salt and pepper to taste and bake at 200º for 15 minutes
Prepare the mixture of lettuce, avocado and pine nuts and season to taste again
Mix the mushrooms with the salad and voila!
2.- Sweet potato burger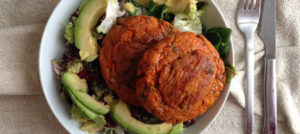 Ingredients (for 4 burgers):
2 large or 4 small / medium sweet potatoes
2 C brown rice flour (or quinoa / buckwheat)
2 C of natural tomato puree and without sugar
1 C unroasted tahini
1 lemon
Fresh cilantro cut very small
2 cloves of garlic cored and chopped small
1 c turmeric
Freshly ground black pepper
Elaboration:
Peel and cut the sweet potatoes into medium pieces and cook for 20 minutes
Once cooked, mash them with a fork
When they are crushed, add the tomato puree and mix. Then add the chopped garlic, the coriander, the lemon juice, the tahini and finally the salt and pepper. Mix everything well
Shape the burgers with your hands
Coat the burgers in a little flour
Bake for 20 minutes at 200º
3.- Pumpkin hummus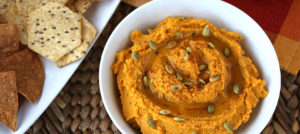 Ingredients for 4 people):
400 g pumpkin
300 g of cooked chickpeas
2 unpeeled garlic cloves
3 tablespoons of tahini
4 tablespoons lemon juice
100 ml of very cold water
Salt
100 g pumpkin seeds (optional)
EVOO
Hot paprika (optional)
Elaboration:
Dice the pumpkin, season and add the unpeeled garlic. Then bake for 45 minutes at 200º
Combine the pumpkin with the chickpeas and mash
While you continue to grind, add the tahina, lemon juice, peeled garlic and a tablespoon of salt
Stir in the ice water while you continue mixing until it is creamy.
Finally, let it rest for half an hour
To serve, add pumpkin seeds as decoration and a drizzle of olive oil and paprika
4.- Zucchini spaghetti with arugula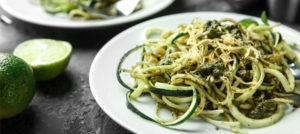 Ingredients (for one serving):
1 large or 2 medium zucchini
A good handful of arugula
20 g pine nuts
2 tablespoons EVOO
A little lemon juice
Salt and pepper
Elaboration:
Cut the zucchini like spaghetti. You can use a knife, a special peeler or with a scratcher.
Add the arugula and pine nuts and season with salt, black pepper, olive oil and lemon juice
If you want, add grated cheese on top and enjoy!
5.- Autumn cream with almond cream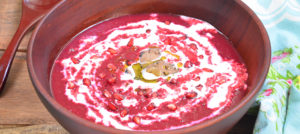 Ingredients (for 2 people):
For the cream:
1 large beet
1 large carrot
1 well-ripe persimmon
1 pomegranate, shelled
2 very ripe figs
For the almond cream:
1/4 T of peeled raw almonds
1/4 T of filtered or spring water
1 lemon, the juice
1 pinch of nutmeg, freshly ground
1 pinch of salt
Elaboration
Chop the mushrooms and mix them with the lemon juice, salt and a tablespoon of olive oil. Let marinate while the cream is being prepared
Wash the beet and carrot and chop them to be able to blend them with the mixer
Add the figs and persimmon (with the skin and without the seeds)
Add the pomegranate but reserve some grains to decorate
Beat the cream until you get a very smooth texture
To make the cream, mix all the ingredients with the mixer until you get a smooth texture
Finally, decorate the creams with the almond cream, the olive oil, the pomegranate grains and the mushrooms, to taste
Camino de Cabras Health, the ideal complement to your diet
All of these fall dishes are tasty and healthy, perfect for planning a balanced menu. But if your problem is that between hours you transform into the cookie monster, our supplement will become your best friend.
The high-impact fat burner helps regulate appetite and anxiety. And that's what you need. If you avoid snacks between meals, you will only take the necessary amount of nutrients during the main meals. Thus, you can better enjoy these delicious dishes that we just showed you.
Do you want to show off a body that seems sculpted by Michelangelo himself? Go ahead and try the CC Health Fat Burner