With summer's arrival, it is common for most people to neglect their habits by getting out of the routine. To enjoy the holidays, ignoring our health or diet is not necessary. You can continue to eat healthily and maintain your usual weight. So that you can enjoy this season without regrets, we will show you some healthy menu options for summer that, in addition to being delicious, are very easy to prepare.
Recommendations for healthy eating in summer
If you want to prepare healthy menus during the summer, you should take into account the following recommendations:
Use more vegetables and greens when cooking.
Eat more legumes.
Eat fruits of the season.
Include salads in your meals.
Substitute the sweet for natural refreshing fruit ice cream.
Regulate appetite and binge eating with our FAT BURNER supplement.
Opt for refreshing drinks like ice tea and our Camino de Cabras functional teas.
If you want more recommendations to enjoy the summer without affecting your weight, we recommend reading our article: Get better results in the gym with these tips.
Healthy menu options for summer
Here is a compilation of the healthiest and most refreshing recipes to enjoy the holidays. Please take note of these healthy summer menus so you can prepare them at home and surprise everyone.
Yogurt with fruit and cereals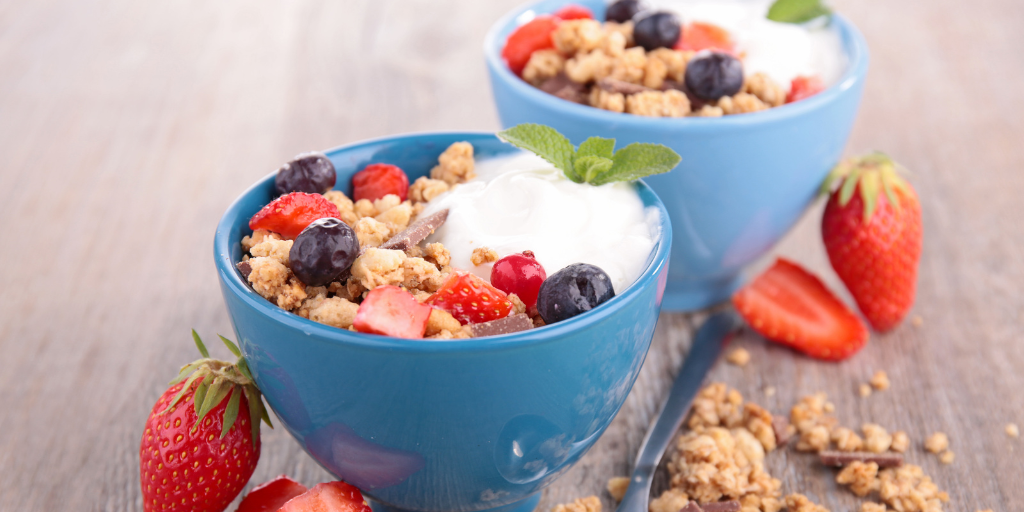 Yogurt with fruits is a healthy and quick breakfast option for the summer. Take advantage of the fruits of the season. For its preparation, choose a healthy yogurt, add the cut fruits, and you can add a little cereal or nuts.
Oatmeal porridge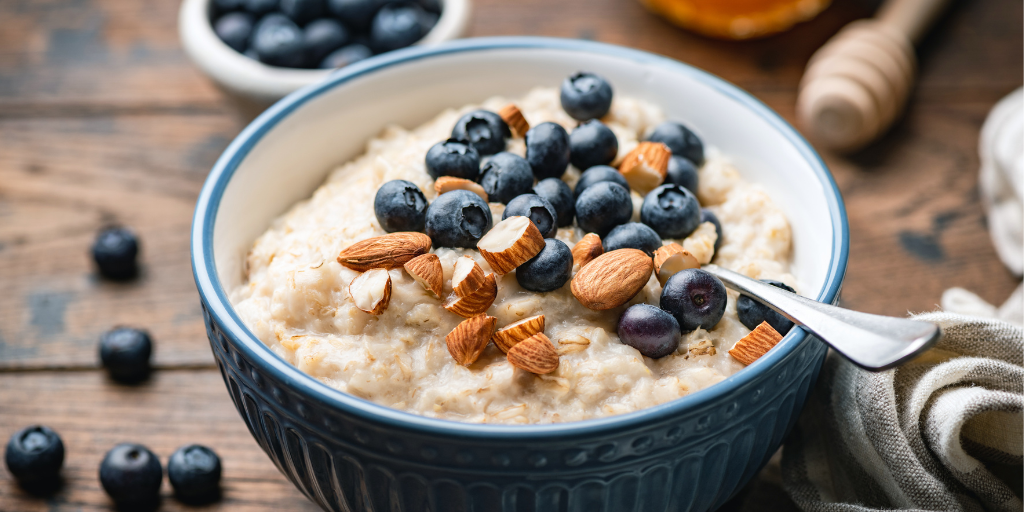 Oatmeal porridge is an excellent healthy summer menu option, especially for breakfast time. For its preparation, cook the oats in a pot with water and stir over low heat until it looks like porridge. It is then mixed in a bowl with milk and pieces of fruit and nuts. You can use blueberries, apples, and nuts. If you want to make it healthier, use non-dairy milk.
Zucchini rolls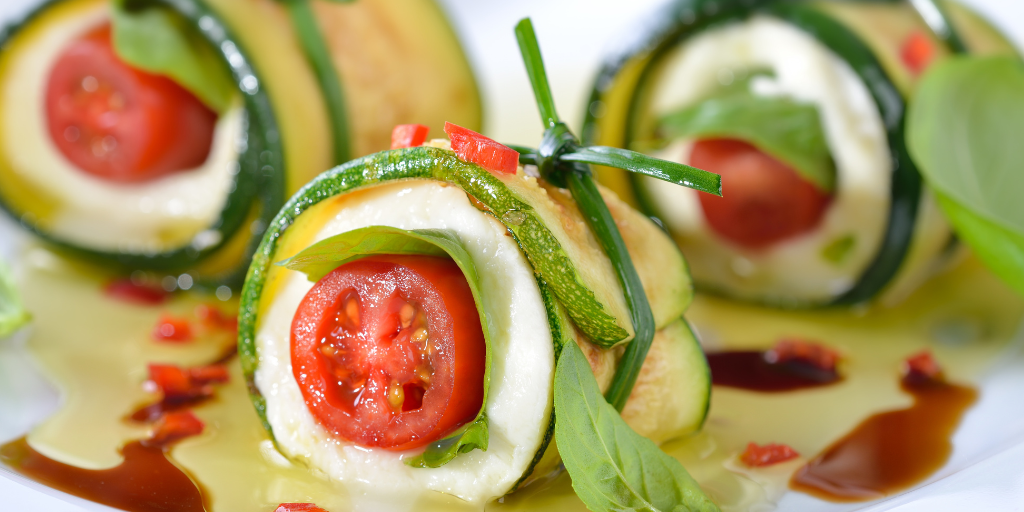 A delicious and healthy option for summer is some cold zucchini rolls. You can fill the zucchini with anything: tomato, avocado, spinach, prawns, chicken, meat… Its level of preparation is elementary, and it only provides a few calories.
For its preparation, wash and dry the zucchini and remove the ends. Preferably with a mandolin, cut the zucchini into thin slices. Grill for 5 minutes on each side. You can season to taste. Then, add the stuffing you chose and roll them up, and voilá.
Chicken wraps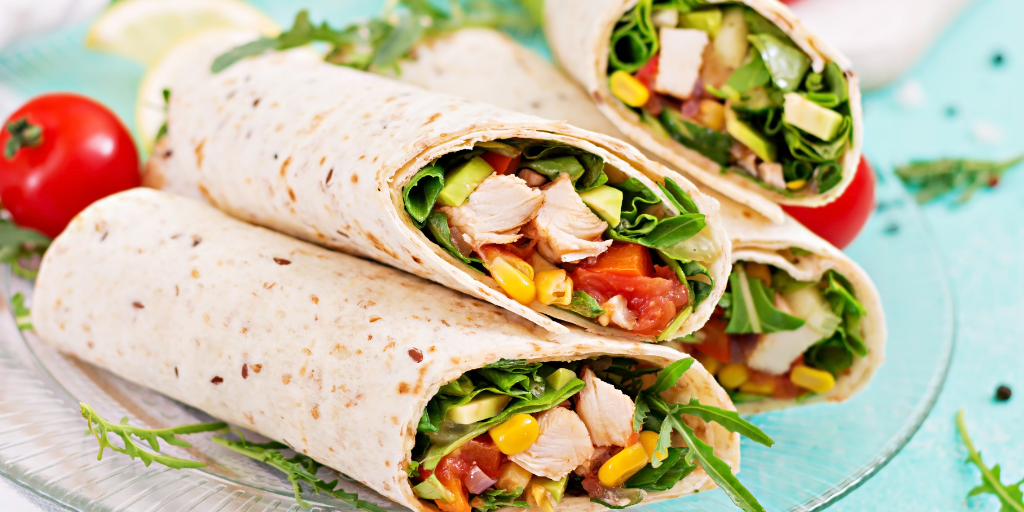 Wraps are a classic summer recipe. To prepare them super healthy, we can use chicken breast, tomato, lettuce, onion, and paprika. You can cut the breast into strips or squares and cook it on the grill. Once the ingredients we chose are ready, we fill the fajitas and heat them before serving on the same grill or in the microwave. If you are a vegetarian, you can only fill them with vegetables, which will be an excellent option for lunch or dinner this summer.
Zucchini lasagna with tuna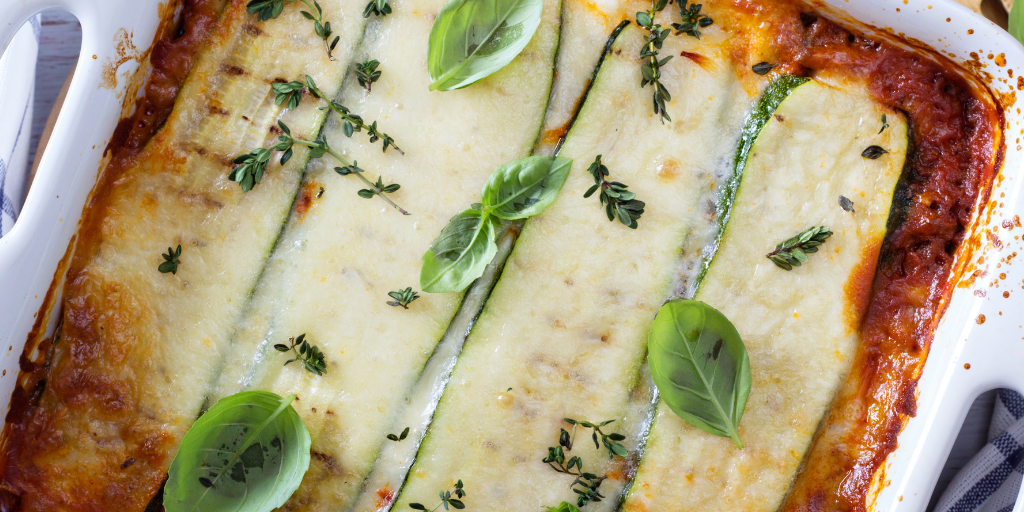 A healthy lasagna option that is just as delicious as the conventional one and perfect for summer. Zucchini replaces pasta sheets, and instead of preparing the ground meat, a sauce is made with tomato, tuna, and a little mozzarella.
For its preparation, you must cut the zucchini into thin slices. In a pan, cook the tuna with tomato, onion, and garlic. Then, on a tray, layer the zucchini with the sauce. You can add a little cheese. Then you put it in the oven for 30 minutes at 200°C, and this healthy menu option for the summer will be ready.
Andalusian gazpacho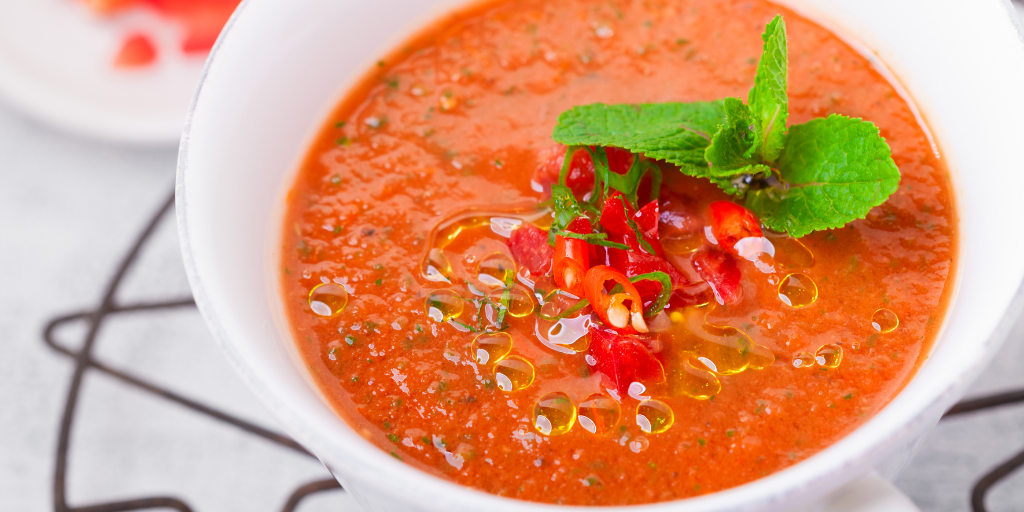 A very refreshing dish for the summer is gazpacho. It is a cold tomato-based soup. To prepare this refreshing dish, fresh and ripe tomatoes must be used. In addition to green pepper, garlic, cucumber, olive oil, white vinegar, salt, and a few slices of hard bread.
For the preparation, all the ingredients are washed, chopped, and added to the blender or processor. It would be best if you blended well until there is a homogeneous mixture. It is a well-known healthy summer menu option in Spain.
Strawberry gazpacho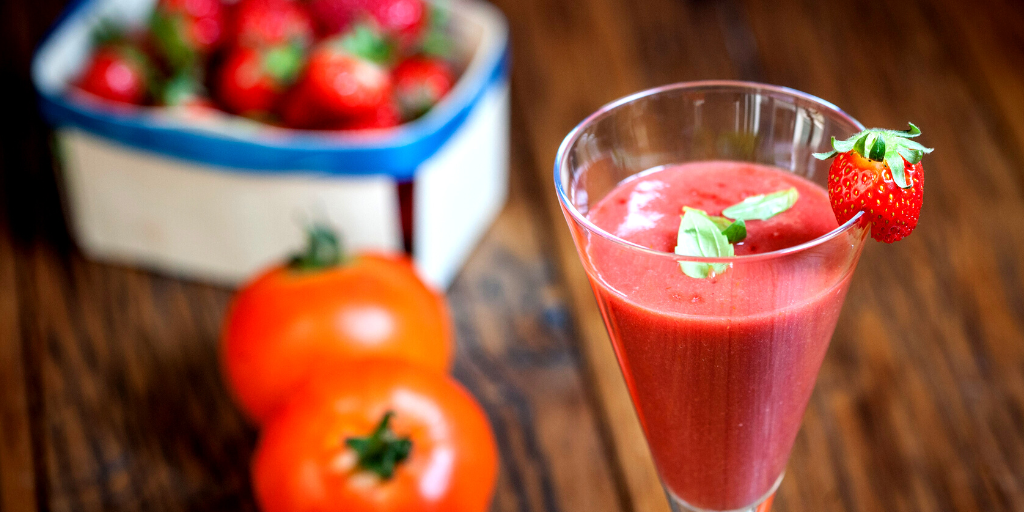 If you want to try another version of gazpacho but based on fruit, you will love this option. Its flavor is sweeter and less acidic than the traditional one but just as delicious. In addition to strawberries, it has the same tomato, cucumber, pepper, olive oil, vinegar, and bread. You can also make this version of gazpacho with watermelon or raspberries.
For the preparation, you follow the same procedure as the traditional gazpacho recipe. Chop all the ingredients and blend them in the blender until you have the texture you want.
Salmorejo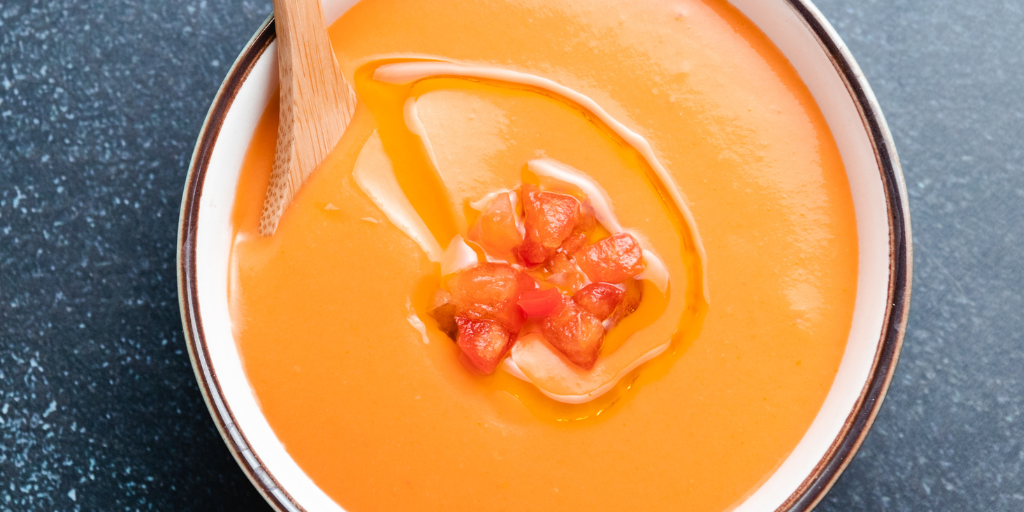 Another of the star dishes of the summer is salmorejo. The ingredients for salmorejo are similar to those for gazpacho. However, they are two different dishes. The traditional recipe includes tomatoes, extra virgin olive oil, salt, and telera bread. In salmorejo, unlike gazpacho, a more significant amount of bread and oil is used; that's why it's thicker. Also, stale bread is used in gazpacho and soft bread for salmorejo.
To prepare the salmorejo, mix all the ingredients in a blender or processor until everything is very finely ground. Before serving, it is cooled and accompanied by a hard-boiled egg and minced Serrano ham. Without a doubt, it is a healthy menu for the summer that everyone will enjoy.
Country salad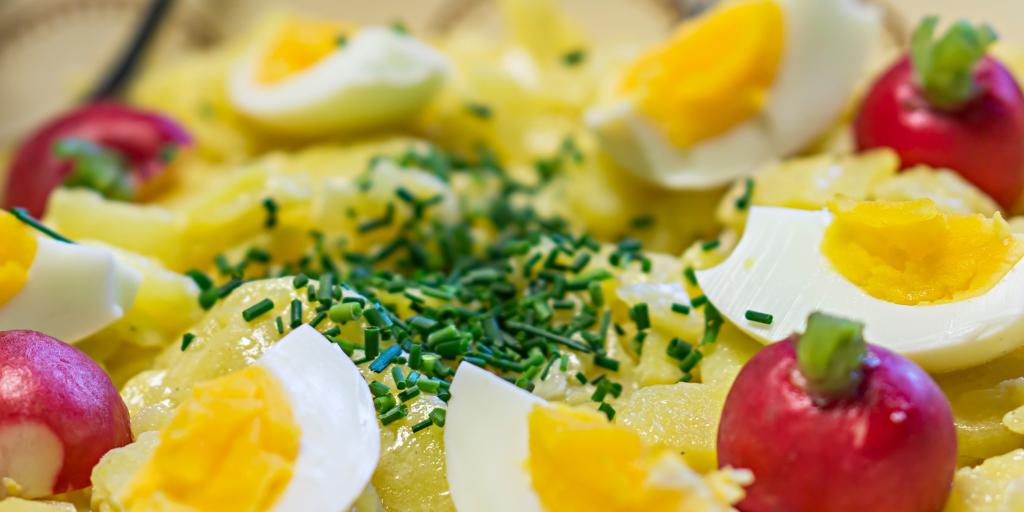 Also known as the summer salad, this dish cannot be missing from the Spanish table this season. Its main ingredient is potatoes. It also has eggs, tuna, onion, tomato, peppers, parsley, olives, salt, and sherry vinegar. To make this salad, you must cook the potatoes and eggs initially. Once they are ready, they are chopped and mixed with the previously chopped vegetables. Finally, you can add a dressing with lemon juice. It is a healthy and delicious recipe for summer.
Quinoa salad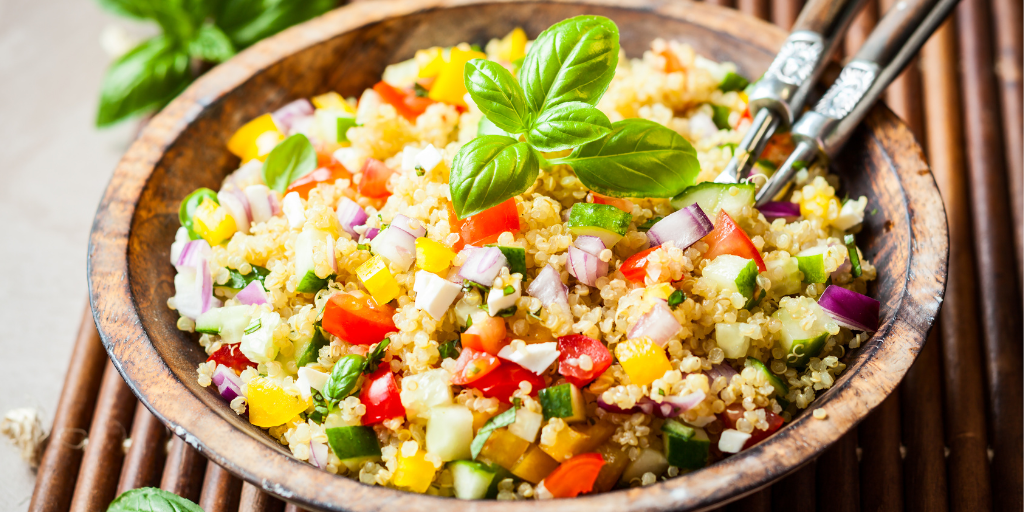 To avoid making the typical salad, prepare it with quinoa for this summer. You will mainly need tomato, cucumber, zucchini, onion, parsley, and cooked quinoa. Its preparation is super easy. You have to chop all the ingredients and mix them in a bowl. As a dressing, add lemon, olive oil, and salt. You can also serve it with black olives, corn, or pistachios.
Fruit popsicles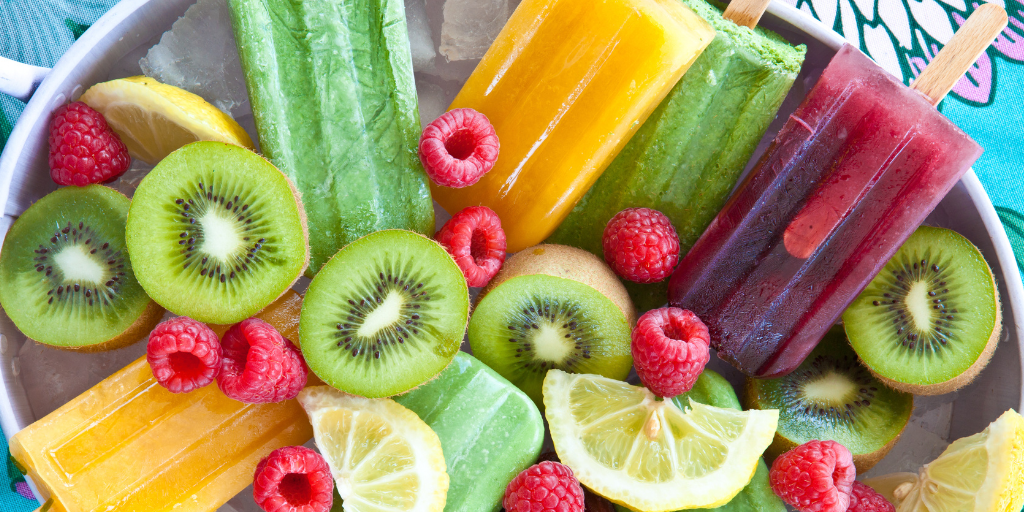 Nothing is better than a 100% natural fruit popsicle for a hot summer afternoon. For its preparation, opt for the most refreshing fruits with a lower glycemic index. Kiwi, pineapple, strawberry, watermelon, melon are some that you can use. Once the fruits are selected, chop them into squares and add them to the ice cream molds. Then you add pineapple juice without sugar or the liquid you want. Finally, the popsicles are placed in the center and left in the freezer for at least 3 hours. This is a super refreshing, healthy summer dessert option.
Pear sorbet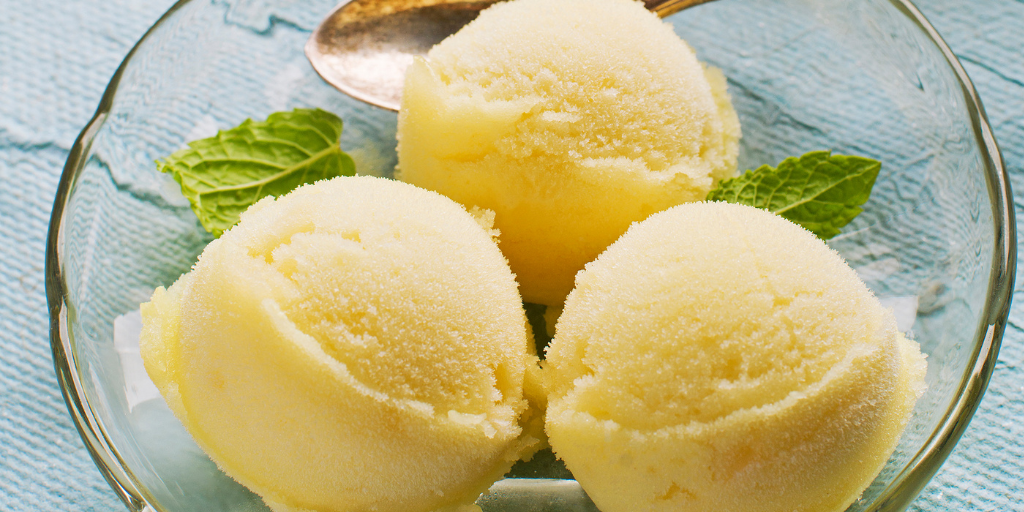 Another refreshing and light option to combat the summer heat is natural sorbets. We suggest you make it from pear, but you can make it from the fruit you like the most. For its preparation, you will need three large pears, juice of 2 oranges, lemon zest, and sweetener if you wish. Pears are skinned and grated; Then, everything is mixed and placed in a container to take to the freezer. Before consuming, it is passed through the blender or mixer to obtain the texture of the sorbet.
What do you think of these recipes? You already have different options to prepare for breakfast, lunch, dinner, and desserts. They are all healthy menus for summer that provide various nutrients to the body and are also mostly super refreshing. Enjoy them with family during this season!